There were no revisions to MPERS' asset allocation targets in fiscal year 2016.
As of June 30, 2016, all of the sub-asset class allocations were within the acceptable ranges established by MPERS' investment policy; with the exception of the hedge fund portfolio, which was approved by the Board of Trustees. Any deviance relative to the target allocation represents a conscious decision based on our views of the market. The chart below lists the target and actual asset allocation as of June 30, 2016, followed by commentary on each of the underlying asset classes.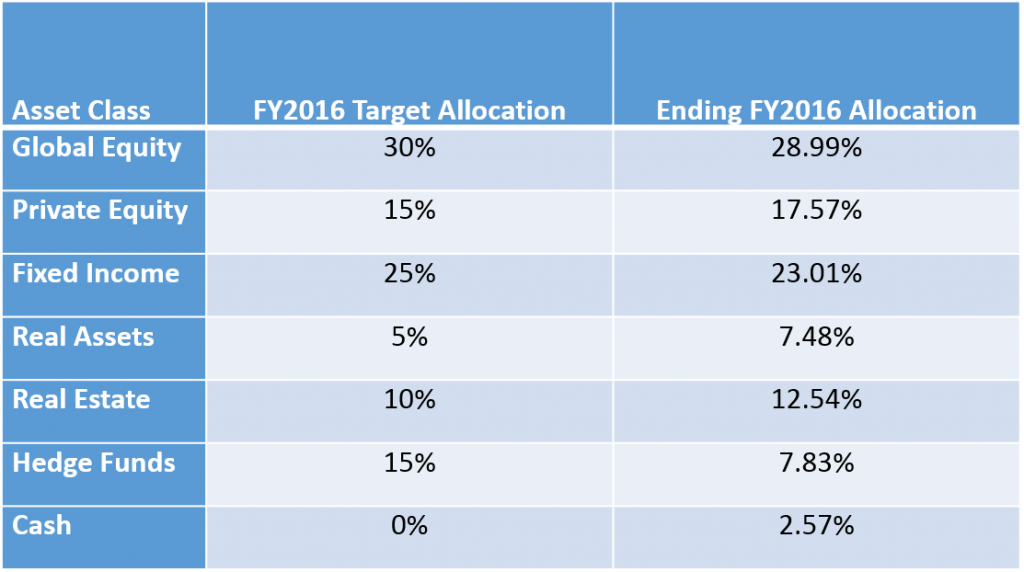 Global Equity
MPERS began the year with a 29.66% allocation to global equities, representing a slight underweight versus the targeted allocation of 30%. We maintained the underweight throughout fiscal year 2016, but made a number of re-balancing moves throughout the year to reflect the changing market conditions across geographic regions and strategies. Earlier in fiscal year 2016, we reduced our exposure to a market weight to emerging markets and increased our allocations to large cap domestic equities and master limited partnerships (MLPs). We finished the year with 28.99% in Global Equities.
We continue to reduce the active management risk throughout the equity portfolio and move towards a passive strategy utilizing derivatives, with the goal of generating a modest amount of alpha through our internal cash collateral management. Publicly traded equity markets are very efficient, and the passive benchmarks are often difficult to outperform on a net of fees basis. For this reason, we believe MPERS is better served by taking active management risk in the areas of the portfolio where managers have demonstrated better ability to outperform their passive benchmarks, such as the alternative asset classes.
In terms of performance, equity markets got off to a rough start in fiscal year 2016, as concerns over an economic slowdown in China sent global equities down nearly 9% in the third quarter of 2015. Commodities and emerging market equities were hit especially hard, dropping roughly 15% and 20%, respectively. The volatility subsided in the fourth quarter of 2015, as strong corporate earnings and better economic reports sent markets higher, but volatility picked up in the first quarter of 2016 as the continuous drop in oil prices and concerns of slowing global growth continued to drag markets lower. Equity markets bottomed in February 2016, and then steadily rebounded to recover most of the year's losses until Britain unexpectedly voted to leave the European Union on June 23, 2016 – just five business days prior to fiscal year end. The surprise vote once again sent markets downward, costing the S&P all its gains from the year and sending international markets deeper into negative territory. Overall, MPERS' global equity portfolio returned a -4.33% in fiscal year 2016, relative to the benchmark return of -3.73%. The majority of the underperformance relative to the benchmark was due to MPERS exposure to MLPs, which ended the year down over 15% due to falling oil and gas prices. We continue to believe that MLPs are attractive relative to broad equity markets, given dividend yields of over 6%.
Fixed Income
with a 22.35% allocation and ending with a 23.01% allocation. The volatile equity markets and concerns over falling growth around the globe sent interest rates spiraling lower throughout most of fiscal year 2016. Credit-oriented strategies did not fare nearly as well, especially anything with exposure to the oil and gas markets. We were very pleased with how well the fixed income portfolio performed in this environment, as the portfolio generated a 7.55% return versus the index return of 5.82%. MPERS' internal fixed income portfolios were the best performing strategies for the year, led by MPERS' internal long duration portfolio which generated a 14.22% return for the year. In a year when 10 year Treasury dropped from roughly 2.5% to 1.45%, and 30 year Treasury yields dropped from 3.25% to 2.25%, this should come as no surprise. Despite their difficulties in fiscal year 2016, we continue to favor credit-oriented strategies within the fixed income allocation, but are also mindful that MPERS' long duration portfolio represents the best diversifier in a falling growth environment.
The opportunistic debt sector remains attractive from a relative value perspective, and fiscal year 2016 was another active vintage year for new commitments in that space. The changing regulatory environment continues to put pressure on the balance sheets of traditional lenders, which creates an opportunity for institutional investors to step in and "fill the void" left by traditional lenders. Recognizing the attractive investment climate, in June of 2016 the Board of Trustees approved the recommendation to increase the opportunistic debt portfolio from a 5% target to a revised 7.5%, and breakout the strategy into a separate asset class (as opposed to a portion of the fixed income portfolio). The change will be effective January 1, 2017, but will have minimal impact on future investment activity in the sector, as we finished the year with 8.4% of assets invested in opportunistic debt strategies. New commitments during fiscal year 2016 include funding an existing manager who was back in the market with a mezzanine debt strategy, funding another existing manager who launched a new distressed debt fund, and yet another existing manager who raised a subsequent lending strategy focused on the shipping sector. We also backed a new manager relationship that raised capital to acquire secondary interests of distressed credit funds.
Another area that we spent a considerable amount of time reviewing was the collateralized loan obligation (CLO) market, which are structured products backed by portfolios of bank loans to private companies. Bank loans are floating rate products, and therefore do not have the interest rate risk associated with fixed rate securities. After reviewing a wide range of market participants, we invested $20 million into a senior CLO strategy (investment grade) within MPERS' core fixed income allocation and another $30 million into an opportunity CLO strategy (below investment grade) as part of MPERS' opportunistic debt portfolio. Collectively, we believe the investment was very well-timed and will represent a potential source of outperformance in the years to come.
Hedge Funds
MPERS' remained considerably underweight the targeted hedge fund allocation of 15% throughout the year, starting the year with a 12.14% allocation and ending with a 7.83% allocation. We continue to favor opportunities in real estate, real assets, and private equity relative to the hedge funds sector.
As we continued to reduce MPERS' hedge fund portfolio throughout the year, we terminated several managers including a global macro manager, two event driven managers, and a long/short equity manager. As the regulatory and political environment has become more complex, hedge funds have struggled to adapt and navigate the changing landscape. We believe that paying the high fees associated with hedge funds in this difficult return environment is not prudent. Recognizing the difficult market environment, in June of 2016 the Board approved a recommendation to reduce the targeted asset allocation from 15% to 10% of assets. The change is effective January 1, 2017.
The hedge fund portfolio generated a return of -8.49% during the fiscal year, which underperformed the benchmark return of –5.42%. Most of the underperformance can be attributed to a higher equity exposure through activist equity and event driven strategies. While this helped us in years past, it did not perform well last year. Two of the event driven managers were terminated in the prior year, but MPERS was required to exit the fund over the course of four quarters. Our significant underweight to the target allocation helped on a relative basis at the total fund policy level.
Real Assets
The real assets portfolio had a challenging year as volatility in the energy markets continued for most of the year, with prices ultimately bottoming in January. Real assets generated a return of -8.69% versus a policy benchmark of 5.00%. The underperformance was driven by MPERS' energy focused funds which make up roughly 45% of the real assets portfolio. We were very pleased with how the portfolio held together in a year when oil and gas market prices plunged roughly 40% for the year. Despite the difficult performance in the energy sector, the allocation to real assets increased from 5.06% to 7.48% throughout fiscal year 2016, versus a policy target of 5%, as MPERS' active commitment pace in previous years allowed several of our managers to close several attractive new deals in the mining and energy sectors.
We continue to complement our energy exposure by adding investments in other areas of real assets. One of the largest initiatives on that front was taking a new approach to timber investments. We have begun leveraging new consultant relationships to source deals with unique structures or different approaches than the traditional timber portfolio model. We continue to view timber as an attractive and complementary strategy within the real assets portfolio given its attractive diversification qualities, low volatility and solid returns over the long-term. However, we felt many of these attributes are lost in the typical fund structure. In November of 2015, the Board approved a revised Timber and Natural Resources' policy that allows staff to be more creative and utilize a direct investment approach to source new relationships and evaluate deals. Using the new authority, we closed a large deal in early 2016 that will serve as a solid core holding in the timber portfolio for years to come. Several smaller, more unique deals closed shortly after fiscal year-end, and we continue to see a consistent flow of potential investments to review. We are excited about this new initiative in timber, and believe the other areas of our real asset portfolio (especially the energy focused strategies) are positioned for better performance going forward.
Real Estate
MPERS' real estate portfolio has a target allocation of 10% of assets, and includes a mix of public and private equity strategies, along with tactical exposures to public and private debt strategies. We continue to find excellent relative value opportunities in real estate debt strategies, as traditional lenders (primarily banks) have exited the sector following the financial crisis. The real estate portfolio was our best performing asset class during the year, generating a 10.62% return in fiscal year 2016, although it underperformed the benchmark return of 11.24%. New commitments include two new investments with existing managers, one who launched a subsequent equity fund and another existing manager who was launching a new strategy we believed was attractive. We continue to be overweight real estate strategies on the view that core real estate will outperform traditional fixed income markets, and ended fiscal year 2016 with an 11.69% allocation. Falling interest rates coupled with the current income component of real estate returns have made the space particularly attractive. Fundamentals continue to show solid results, but we note that some areas of the market have shown the effects of new supply finally coming online after years of delays following the financial crisis. We continue to monitor these developments and will look for an opportunity to tactically allocate away from areas we feel are at risk and into areas we see better relative returns. We will also continue to monitor the interest rate environment as it can have major effects on real estate valuations, but for the time being we continue to view the strong fundamentals and current income as attractive relative to other areas of the portfolio.
Private Equity
MPERS' private equity allocation remained overweight the targeted allocation of 15% despite slightly decreasing from 18.74% to 17.57% of assets during the course of fiscal year 2016. The portfolio generated a 4.86% return for the year, slightly higher than the "public equity plus" benchmark (S&P 500 + 3%) which generated a 4.83% return. This benchmark has been difficult to outperform in recent years given the strength of public equity markets and the relative immaturity of MPERS' private equity portfolio. The portfolio continues to mature, and we remain optimistic that relative performance will continue to improve as the underlying portfolio companies mature and advance toward their ultimate exit strategy.
Fiscal year 2016 was the second consecutive year where distributions (from portfolio company sales) outpaced new capital calls, providing further evidence of the improving maturity of the private equity portfolio. We continue to cautiously, but actively, commit to new managers and strategies – favoring smaller, niche managers who are not "fishing in a crowded pond." These managers have a more repeatable strategy that is compelling even in the low return environment that we face today. New manager commitments during the year: a small U.S. focused manager that invests in small companies in the government contractor space and then grows their platform into a larger company that can integrate with large aerospace, intelligence or defense companies; an Asian manager focused on the emerging secondary market in South East Asia who then restructures, recapitalizes and provides capital for the next phase of growth opportunities; a U.S. based manager that focuses on financial technology companies who are in high demand given the new regulations attributable to Basel III and Dodd Frank: and a U.S. based manager who focuses on small to mid-size companies that are turnaround stories.
We continue to focus on building deeper relationships with our existing managers and the broader private equity community. We value strategies that offer excellent transparency into the underlying investments and strategies with attractive fee structures that still provide top tier performance. While there has certainly been a lot of criticism in the media recently about the fee structures associated with private equity investing, we can assure our members that when evaluating new managers, we are never afraid to walk away when their interests do not properly align with ours.